Community Support
Travel and community support in Uganda
Across the world, many travelers are flooding in the Pearl of Africa to explore her beauty. However most of the Uganda's prime attractions are situated in the remote areas and surrounded by the local communities. This implies that the effects of tourism are continuously growing everyday. We have a significant responsibility and opportunity to not only minimize the negative consequences of tourism, but make a long-lasting positive impact too. From protecting the environment and its animals, to educating others and supporting the communities you visit. This means being a responsible tourist you can change the world as you travel.
On your Uganda safari, you can choose to be specific whether you would love to volunteer in rural or urban areas, as long as you clearly communicate with us at the time of booking and let us know your ideal preference.
Sponsor a child
The effect of HIV has greatly affected the rural areas of Uganda, on this note many children are left orphans, some children have lost one or both parents. In this situation, the First born children are left with a big responsibility to take care of their siblings.
Many associations have come up with orphan homes, built schools and hospitals. Therefore, you can change someone's life by offering financial assistance through sponsoring a child in school. There are children, especially Orphans who cannot afford school fees or even scholastic materials to push them through school. Any little help you offer has a tremendous impact on the child's life and future. Sponsorship involves paying school fees or even offering scholastic materials such as books, pens, pencils, shoes and beddings among others.
Empowerment of the rural women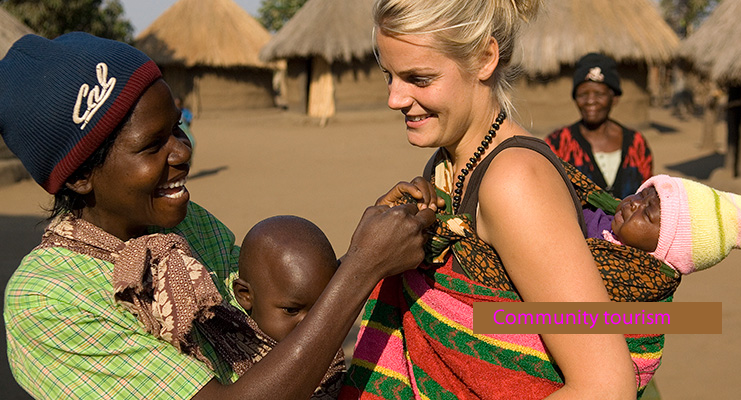 In most rural areas, it is mainly the women to cater for the basic needs of the family as majority of their husbands are either drunkards or polygamists. However, if these women are given an opportunity to earn their own income, it not only transforms their families but the nation at large since their standard of living also improves. It is for this reason that the women have to be equipped with sustainable income generating activities and entrepreneurial skills that provide them with positive choices for themselves and their families in the areas of economic development, education and health care among others. For more information about some of the outreach programs and how to get involved, you can contact this Company and you will be able to bring a smile in someone's face.
What we offer and community support?
Supporting Local Schools and Communities
We visit schools in rural communities to offer cultural exchange and work together to fund projects through donations. By visiting these underfunded communities on a tailor made Uganda Safari, our travelers can bring along school supplies and we can directly donate to where it's needed to make a real difference. Our ambition projects are to build a new daycare centers in a rural communities, contributing to huge infrastructure improvements, and sponsoring local Football, Biking, basketball teams to provide uniforms and equipment.
Education
We believe that travel changes you; one things we would love to inspire in our travelers is a adopt a new culture of travel. Besides teaching our travelers how to protect and respect the wild habitants we explore everyday, we are trying to preach the gospel of inspiring the communities by giving supporting them at all levels of their ability. We practice what we preach, so the rest of the travel community will follow thus giving chance to sustainable tourism.
Local community support
It is important to know where your money goes is a responsible traveler. For resistance, on the gorilla permit fees paid by the tourists, there is a percentage given back to the community. As a tour operator that loves the nation, we work hard to ensure that our local expenses remain in the communities we are visiting. From our local guides and accommodation to the families we work with in those remote areas. Each tourist we can bring to a community brings an incredible opportunity to help support their local economy.
Environmental Protection
Travelling the world is something interesting to all wildlife enthusiasts. Considering sustainable tourism, we can not forget to protect the environment that favors travel all year round. Join us and be part of the solution, not the problem! From the water habitants clean ups and limiting all plastic usage on our trips to partnering with eco-friendly suppliers and trusts, you can minimize your travel footprint with us.
Incase you are interested to a enjoy a Uganda safari combined with community, we hope the above information guides you on how best to you can carry out charity works in Uganda's rural community. You not only give the financial support but you grab a chance to learn more on how the local natives in villages manage their lifestyles. You enjoy lots in interesting cultural dance performaces and songs that exhibit their fascinating culture.
Simply get in touch with our travel consultant team to assist you arrange a classic Uganda wildlife safari combined with community adventure. Contact us on info@gorillaugandasafaribookings.com or call us directly on +256-775630809 or +256-701343598 to speak directly to our reservations team.